More than thirty street art murals recently appeared across Boulder, Colorado, created for the second annual Street Wise Boulder festival. From large-scale pieces transforming walls of shuttered businesses to colorful pops of art in doorways, the festival brings socially-driven art to people where they live, work, and hang out. The event also supports a diverse group of local and internationally known artists. And it might not have happened without help from the cannabis industry.
Overcoming funding challenges
Street Wise Boulder launched in 2019 with robust support from restaurants and event venues that were thriving in the booming economy. Founder Leah Brenner Clack's goal for the mural festival was to spread ARTivisim, using the power of art to create connection, spark change, and build empathy within the community.
In 2020, Clack faced a completely different landscape as planning took place. The walls were there, ready to be painted. However, many of the previous year's supporters were struggling for their very existence in the face of pandemic shutdowns.
"We had a lot of great walls lined up, but not the funding support, which pushed us to expand our sponsorship and fundraising efforts," Clack said. "Through our community connections, we connected with several local cannabis companies that were excited to provide support, including Wana Brands, Terrapin Care Station, and 14er Boulder. As a result, we were able to bring more artists in, create more joy, and amplify messages around activism and social justice issues."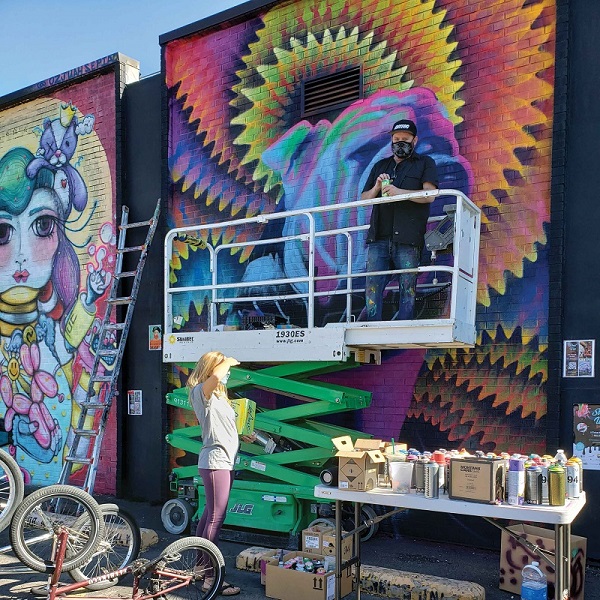 Participating artists were thankful for the work after seeing many other gigs dry up. Brandon Opalka saw multiple shows in New York City, Miami, and France canceled due to the pandemic. Now, he's focused on finding gigs closer to home while juggling family duties, since schools have pivoted to remote learning. As he worked on his collaboration with Douglas "Hoxxoh" Hoekzema over the weekend, his children rode bikes around the vacant parking lot and chatted with other artists, many of whom are also family friends.
"The pandemic has been a struggle for all of us," Opalka said. "Some days are overwhelming, but you just have to keep pushing through. In general, I think we will come out of this stronger."
That sentiment is reflected in the collaborative mural featuring Opalka's lighthouse in front of Hoxxoh's signature gyrating color patterns. "The mural can be seen as a metaphor for what's going on in society right now," Opalka said. "Are we being a lighthouse, helping each other?"
Scaling corporate social responsibility
Even during good times, giving back to the community was a priority for Boulder-based Wana Brands, a producer of cannabis-infused edibles. The company's corporate social responsibility (CSR) plan incentivizes employee volunteerism and commits to spearhead between four and six community events each year.
Soon after the pandemic hit, cannabis was deemed an essential service by Colorado and other legal states. Wana Chief Executive Officer Nancy Whiteman's first priority was to ensure the safety of Wana employees while also maintaining production of essential cannabis products on which patients and adult-use consumers depend.
Once essential functions were covered, Whiteman shifted her attention to the community. The pandemic exacerbated many issues that already were on Wana's radar, including homelessness and hunger. But other needs emerged as well. The impact of restaurant closures was felt across multiple industries including the arts. Entertainment venues closed; concerts and community festivals were canceled. The closures were necessary in the face of the pandemic, yet they also deeply impacted morale at the very moment when community was more important than ever.